I've been in lockdown now since mid-March and have been noticing how so much has changed for the better. There is way less pollution – even where I live, right down-town. I have less dust in my apartment and the noise level is down. The streets and highways I can see from my windows have way fewer cars on them. Statistics are coming in from all over the world about the reduction in pollution.
I keep seeing reports about how animals are responding. There is a family of foxes living on the beach under a boardwalk. Deer have been photographed playing on the beach of Lake Ontario.
People are rallying to help others by donating food, donating meals, and shopping for those who cannot do so for themselves.
We've seen a real appreciation for the front-line workers in supermarkets, collecting garbage, and others who keep our cities going.
My questions are: how do we keep this up? What more can we do?
I admit. At times, I have felt paralyzed by the news and current events. The total disregard for nature and the planet we live on and the call from indigenous people and scientists that we have to clean up our act. The growing divide between the rich and the poor, around the world, the fear of COVID-19, and the fear of racial diversity.
All this boggles my mind.
Then something happens and I see hope for our future. Like viewing the prolific memes of children embracing children of any race, religion, or economic class. Stories like the young child who sought her father in his UPS delivery truck. She determined he was not her father because the driver had hair and her dad was bald. Her dad is white. The driver is black.
And then I saw the sign.
I want to actively contribute to making this world a better place to live. So, on my website I am introducing a new series of postings based on the campaign we created about six-months ago — #GoodNewsAwakening.
There is good news all around us and I believe that all of us need to wake up to the good. It's time we focus on what truly matters. Bad behavior of the few does not demand our attention. Break yourself free.
Supporting groups that need our collective help is important to me — to all of us. We will feature items  we can do as a society like help promote racial equality and black lives matter.
Our discussions will feature good news that's happening around the world. We will focus on creative solutions to help cure what "ails us." We will highlight people, communities, and whole countries – wherever we find goodness. Good behavior needs our attention.
Let's build a better world this time around. Together we can. Thanks for letting me be a part of your world.
Take care,
~ Ellen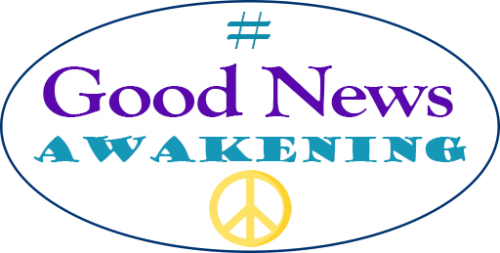 P.S. If you have goodness to share or ideas to make the world more equitable for all, please email me at ellen@healingtransformation.ca. Good News Awaking Stay safe in your travels.