Our Road Trip through Ireland
We had the "best of times" while visiting Ireland. The people of Ireland totally delivered on their promise posted on Ireland's official tourism website,
"Discover heart-warming moments and spectacular sights."
We did just that. We filled 12 glorious days discovering breath-taking countryside in addition to visiting amazing historical castles, gardens, and monuments throughout Ireland.
It was a spectacular trip. I would do it again on a heartbeat and recommend anyone who wants to go to Ireland – to go.
We saw so many wonderful places, I wanted to at least share a few highlights of our trip.
Megalithic Monuments
When planning our trip, we had a hard time deciding where to go. There were so many places I wanted to see in Ireland. While we planned our agenda, a friend told me about a website I should check before our trip Megalithic Monuments of Ireland. It is a fun website to peruse through – especially if you plan a vacation in Ireland.
Megalithic monuments have been around since the Neolithic and Bronze ages circa 4,000 to 11,000 BC. These monuments consist of large stones and slabs placed together to build a monument. Some are single large stones while others are grouped in circles. One of the most famous of megalithic monuments is Stonehenge in England. Archeologists and historians believe that communities built these as tombs and to celebrate seasonal rituals.
You'll find photos and stories on the Megalithic Monuments of Ireland's website including this video of prehistoric art on the outside stones at Knowth, Ireland – one of the sites where we visited.

I have to say that the few megalithic monuments we visited were the highlight of my trip. Their energy felt amazing to me. Three that stood out included the gardens at Blarney Castle, Poulnabrone Dolmen (dolmen means "tomb entrance"), and the World Heritage Site of Brú na Bóinne' tombs of New Grange and Knowth.

Blarney Castle and Gardens
I am crazy about gardens anyway and Blarney Castle's gardens are wonderful. I feature just three here for you.
Rock Close Garden
A truly magical experience, the Rock Close Garden offers you a planned, yet primitive, adventure in nature. You'll find Wishing Steps, an ancient Druid circle, and other hidden places where, "they" say magical creatures dwell. I had hoped to meet a leprechaun there – but unfortunately, I did not. It felt like a magical place and I could have sat there for hours meditating on the energy there.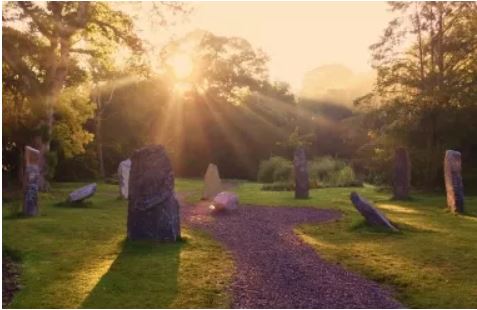 Video of Rock Close Garden by Alice Friend

The Jungle
The Jungle garden was also amazing. It thoroughly impressed me that they could get all those incredible tropical plants to grow in Ireland — yet there they were! We walked among banana plants, giant tree ferns, and bamboo. Amazing.
Poison Garden
Have you ever heard about a "poison garden?" I have seen others, and the Blarney Castle's Poison Garden is one of, if not thee, best — very well done. It's hidden behind the castle and they recommend you "enter at your own risk." Although they call it a poison garden, it is really a modern garden planted to resemble a medieval "physic garden." As such, it contains many medicinal plants as well as ones on the toxic side. As the website promised, we found Wolfsbane, Mandrake, Ricin, Opium and Cannabis growing in their beds. In medieval times, people would have used the plants for medical and culinary purposes.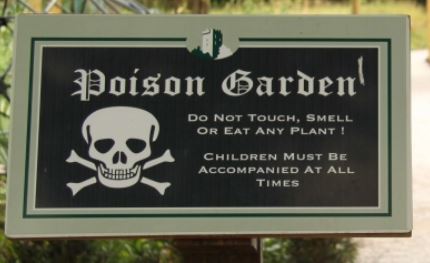 A plaque at the Poison Garden proclaims that:
"Although the plants are dangerous, there are actually very few deaths as a direct result of poisoning from plants. They do, however, cause millions of deaths every year, just not in their natural state. The huge numbers of deaths occur once we start to make products from the plants. Every year, thousands of people die from an overdose of heroin (Opium Poppy) and over five million die from smoking related diseases (Tobacco)."
I thought the message is something to think about in our lives on how much nature benefits us – and how we must protect nature from us altering it.
The plaque also references John Robertson in England and his The Poison Garden Website. Robertson provides us with a serious compendium of information about toxic plants and a great reference site if you want information on the dangers of plants to you and your pets. He also stresses that there are relatively few deaths each year because of directly ingesting plants.
Poulnabrone Tomb
Another megalithic monument site that stood out was Poulnabrone Tomb. I think it might have had that function, but it was also something else. It felt more like a portal perhaps? When I stood in front of it, I could feel energy coming from beneath my feet and streaming toward me. It's also a place where amazing plants grow between the rocks. Again, I could have stayed there for hours. I felt the veil to be very thin while visiting certain places in Ireland. I got the sense that anything could happen – Poulnabrone was one of those places.
World Heritage Site Brú na Bóinne
The last place I want to share with you is Brú na Bóinne where we visited two of the three passage tombs — New Grange and Knowth. Passage tombs provide access to burial chambers; often more than one. These were covered with grassy mounds.
Knowth
We went to Knowth first. As we approached, all we saw was this very large grassy mound surrounded by smaller mounds. This site is older than the Egyptian pyramids. I'm glad we went to this site first as New Grange provided us with a much more inclusive experience.
New Grange
At New Grange we were met by another very large grassy mound. This site allowed visitors to hike into the tomb. We entered through a very narrow passage where even I had to bend to walk. I am not very tall so this was an unusual experience for me. We trekked in to a large chamber with three smaller chambers off the central one.
Builders of this passage tomb designed New Grange to honor winter solstice, the shortest day of the year (December 21st). At the time, this was their new year – a symbol of rebirth; a new beginning. Much like we celebrate the new year today. During those few hours, the winter solstice sun comes and shines on a certain point.
I found this interesting, but what intrigued me more was the energy I could feel. A strong energy come into the chamber through the floor where I stood which surprised me. Our guide showed me where to stand to feel this energy in other places.
Again I asked myself, what are these monuments for besides burials?
What a great trip.
We visited many other wonderful places; too many to list here. I encourage you to go visit Ireland and it's incredible castles, monuments, and countryside for yourself.
Happy travels,
~Ellen
A Note regarding the photos
I am not much of a photographer plus, I wanted to be in the moment when I visited these sacred sites. When writing this article, I pulled photos from the various websites which I linked to in the copy. They have much better pictures than what we took. I wanted to include a list of sites here to give credit to the photographers; and for you to discover more about Ireland's megalithic monuments for yourself at those links. You just might be drawn to visit Ireland after that. As I stated, it was a spectacular trip.