Here's a book that opens up possibilities for everyone.
Hiring the Heavens: A Practical Guide to Developing Working Relationships with the Spirits of Creation by Jean Slater. Published March 10, 2005, by New World Library.
Thousands of angels are waiting to be hired – and you don't need a crisis to hire them!
For example, if you're starting a business — hire an angel publicist, researcher, accountant, and whoever else you need. Going on a trip to a foreign country? Make sure you hire an angel tour guide and a money exchanger to go along with you.
According to Jean Slater, you can refer to your helpers as you wish. She talks about "celestial helpers, guides, angels, invisible assistance, the Universe, Spirit" as some of the possibilities you could use.
Little book and fun to read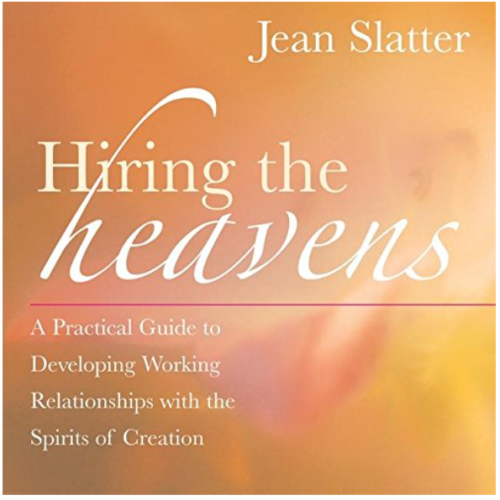 In Hiring the Heavens, Jean Slater has created a practical guide for readers to develop working relationships with the spirits of creation.
The book is very simple to read. It's less than 130 pages. In it you'll read about how she learned how to hire the heavens to help her in every side of life. Her life dramatically changed for the better once she hired her helpers.
Jean explains that…
"I began to truly understand that I was not alone. That spiritual helpers stood ready and willing to be "hired" in the co-creative expression of my divinity. Unified with Spirit, I realized I was master of my universe and designer of my world. This was a message of freedom and power."
Large or small — job or project, there are heavenly helpers willing to help you, too. Basically, you are one step away from connecting with angels and guides. I highly recommend you read Jean Slater's Hiring the Heavens.
There's more
In the back of the book, she has a work sheet to help you be very clear in your request. You've probably heard the old adage "be careful what you ask for." It's the same when you want to hire the heavens. She offers an angel express card to hire them also.
This book opens new possibilities for everyone, including me.
Check out Jean Slater's work
To read the first three chapters of Hiring the Heavens
https://www.creativemystic.com/wp-content/uploads/HiringTheHeavensCh1-3.pdf
To order Hiring the Heavens
To visit Jean Slater's Creative Mystic website and signup for news and information
Take care,
~~ Ellen