Life After Death:
The Burden of Proof
By Deepak Chopra, M.D., Penguin Random House (September 16, 2008)
Deepak Chopra has authored over 80 books. His signature 21-Day-Meditation Experience program has inspired millions of people around the world to meditate. This program originally launched with Oprah Winfrey in 2013.
Transitioning from life to death
Because I am called upon to help people with their end of life passage, I decided to reach back to re-read Deepak Chopra's 2008 book, Life after Death.
In his writings, Chopra often brings greater clarity to our spirituality through his personal experiences and his deep understanding of ancient philosophy. This book is written in this vein.
In Life After Death, he combines his understanding of physics with the knowledge he gained from counseling many people with their near-death experiences. Chopra offers his readers the possibility that dying might offer fantastic opportunities for spiritual growth.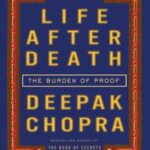 Dying is not to be feared
Deepak Chopra asserts that the spirit world exists in the same space that we inhabit. This world hides from view while vibrating at a different frequency than we do.
He describes life after death as if in a dream. In it, souls become your guiding force – bringing you back to the Source. I found this to be an interesting concept.
Time does not bind us
According to Chopra, afterlife lasts "as long as we can imagine." In the afterlife, we exist in a world without thought, only images and memories. Here we can experience love, compassion, strength, and truth. In fact, Deepak tells us that in afterlife, "…existence becomes its own reward."
The powers that can help you navigate through your afterlife, Deepak advises, are:
Imagination
Memory
Artistic Ability
Spiritual Sensitivity
Healing Abilities
Intuition
However, they are not required
He believes that what souls see and experience after death comes from what they expect. To me this explains the many different world views on what happens to us after we die.
I remember reading a review of Life After Death encouraging anyone expecting to die soon to read it. I agree.
Deepak Chopra's explanations, along with the exercises he provides, help to make sense of our spirituality — whatever path one happens to follow.
Take care,
~Ellen
P.S. When I help clients and their families during their transition from life, we meet one-on-one. You can find information on my Treatment tab for Distance Healing.
Contact me if I can help. Call me at 1 (416) 203-2744 or email me with your phone number with good times to call you back at ellen@healingtransformation.ca. Let's talk.