Sacred Cow: The Case for (Better) Meat
Why Well-Raised Meat Is Good for You and Good for the Planet
by Diana Rodgers (Author), Robb Wolf (Author) | Self-published (July 14, 2020)
Although I have tried at various times to become a vegetarian, I have never succeeded. So, I can say that I have always eaten meat.
The articles I have read often cause me to feel quite guilty — even ashamed of my choice. I have to admit that I do not really like beef, but chicken, lamb and fish, I do like.
Diana Rodgers and Robb Wolf show there is no conceivable argument — except the purely religious — to think that being a vegetarian is superior to the diet of an omnivore. They scientifically explain that if you want a food that is nutrient dense, environmentally sustainable (through regenerative agriculture), and efficient — meat is the answer. Vegetables, fruit, grains, and nuts add variety, taste, and nutrients. They cannot compete with meat.
Arguments that have been put forward that say meat is…
environmentally unsound,
uses more resources than vegetables,
wastes water,
pollutes the environment,
inhumane, or
morally unjustified
…are simply not true according to Rodgers and Wolf's research.
The information and graphics are excellent and help you understand the issue in great depth. They provide detailed research, with charts and a large bibliography to back up their claims.
Rodgers and Wolf show that regenerative agriculture is the way to go if we want to feed the population of the world and save the mother earth. We learned about the importance of regeneration in Braiding Sweetgrass.
The authors look at health, the environment, and the ethics of eating meat. It's unusual for all this to be in one book.
Rodgers and Wolf do, at times, over-state their claims and that does get a bit tedious.  However, this does not detract from the argument they are making.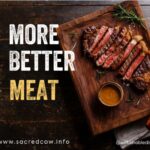 They simply want ranchers (and farmers) to practice regenerative processes in raising cattle for consumer consumption.
Documentary
Sacred Cow is also a documentary film making the case for better meat. They had an Indiegogo site to raise funds for the movie and book. It is now closed. The video explaining their project is interesting. Check it out.
If you are interested in how to feed the world population through regenerative agriculture, this book is for you.