To Speak for the Trees
My life's journey from ancient Celtic wisdom to a healing vision of the forest
By Diana Beresford-Kroeger, PhD
Penguin Random House (September 24, 2019)
I am very excited to recommend you read To Speak for the Trees by Diana Beresford-Kruger. From reading my blogs and book reports, you probably noticed I have a deep love for trees. Despite this great interest, I had never heard of this author who writes about trees scientifically and in a language we can all understand. Last October, one of my students suggested I attend a talk by Beresford-Kruger talk that was held locally.
I went to the talk and the speaker blew me away. So much so, I bought her book. Diana Beresford-Kruger combines her autobiography with her deep knowledge of the spirit and medicine of trees in her new book. I read the book while in Ireland where I travelled for 10 days those last weeks in October.
That's significant because Beresford-Kruger is Irish with deep Celtic ancestry. Her knowledge of trees encompasses the conventional scope of her training, research, and teaching in science and medicine, as well as, the ancient wisdom of her Celtic ancestors. I loved reading her book while traveling Ireland. Although I did not go to the places she mentions in her book, I felt a wonderful sense of connection to the land, people, and culture through her stories of her early life there and her beginning love for trees and nature.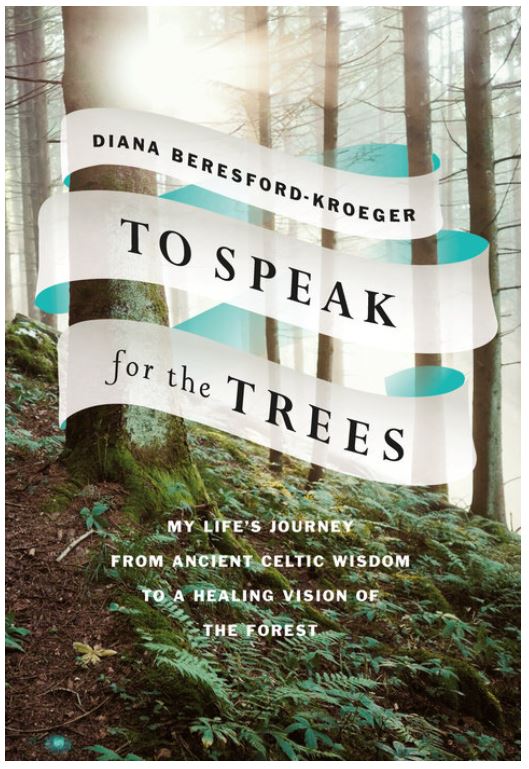 Diana Beresford–Kruger is a world-renowned medical biochemist and botanist. She has written several books and hundreds of articles. Many are scientific in nature while others written to provide the world a greater understanding of the importance of nature and our dependence on trees. In her book To Speak for the Trees, she describes the healing medicine that trees offer us, their sacred lives in nature, and the role trees have in disabling global warming.
Her captivating account of how her early life and trauma led her to these crucial discoveries of trees and life. A series of unfortunate circumstances resulted in her becoming an orphan and the last ward under Brehon law, the earliest reported laws of Ireland. She describes her life as a ward of the "O'Donoghue Elders." The Elders taught her the ways of the Celtic triad of mind, body and soul. This included the philosophy of healing, the laws of the trees, Brehon wisdom, and the Ogham — the Celtic Alphabet of Trees. Beresford –Kruger goes into these in depth in the second part of her book. She offers a wonderful introduction to the way Celts wove together trees, language, people, and places.
This book fascinated me and was a joy to read.
Her speech impressed me and I'm very grateful to my student for recommending her. In both in person and in her writings, Beresford-Kruger shows us how forests can heal and save the planet.
In her talk, she suggested that if everyone planted one tree a year for the next six years, we could reverse climate change. She suggested that we collect acorns from our High Park in Toronto and plant them. You can plant any seeds of native trees wherever you happen to live. I am pleased to say, I have started the process.
I also look forward to watching her documentary, The Call of the Forest; the forgotten wisdom of trees, which is currently screening across Canada. Like me, Beresford-Kruger moved to Canada after completing her university training as a young adult – many moons ago. Before she migrated, one of the Elders had foretold that her destiny was to bring her wisdom from Ireland to the people across the ocean. I, for one, am glad she has shared her knowledge and love of nature with us. I plan to follow her work and recommend you do too.
~~ Enjoy, Ellen