"Curiosity is the most powerful force on earth."

From Dr. Zach Bush website
In 2021 I was introduced to Dr. Zach Bush, a board-certified physician in Internal Medicine, Endocrinology and Metabolism, and Hospice/Palliative care. Dr. Zach Bush stresses the importance of a healthy soil for our own health. He believes that damage to our bodies is due to stress and to the contaminants in our soil, water, and air.
According to Dr Zach, we must repair the damage chemical farming has done to the soil. He encourages us to be active in bringing biodiversity back to our soil. He's found that organic farming can be just as harmful as regular farming if the soil still holds on to the chemicals used in the past.
Farmers need to feed the soil back to its natural, healthy state without using chemicals.
The biodiversity in the soil is just as important as the biodiversity in our guts. Dr. Zach expands that "the microbiome has now come to be seen as the foundation of human life, health, and most interesting to me – human consciousness itself."
For more information on healing our bodies and ourselves, check out Zach Bush, MD's website. There you will find educational videos on everything from our brain health to nutrition.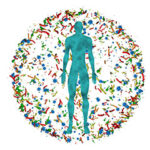 More of Dr. Bush
You might also want to check out Dr. Zach's interview with Kelly Noonan Gores of The Heal. This interview offers a good explanation of what we need to do to support a regenerative movement to the soil and microbiome of the planet — Zach Bush MD: Regenerative Farming, Degenerative Pharma, and The Microbiome of Our Bodies and The Planet.  He shares how to "support biology, biodiversity, Mother Nature, as well as the inner-terrain of our own microbiome to create a new health paradigm for the future."
This is a movement that we all need to support to bring about a healthy world of humanity and the planet.
Another great interview with Dr. Zach is by Lacy Phillips. Ep. 172 – Zach Bush MD – Tapping into Inner Wisdom & Stillness