My Summer with the Leprechauns:
The Authorized Edition
by Tanis Helliwell Wayshower Enterprises (February 18, 2012)
Have you ever planned a trip and then remembered a book you wanted to reread? My Summer with the Leprechauns by Tanis Helliwell is the book I wanted to re-read before my trip to Ireland last year. I'm glad I did. I found my second reading just as fascinating as I had the first time. This book truly prepared me to recognize the magic of Ireland.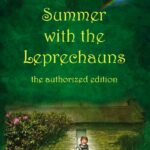 A time of unplanned discovery
In the mid 1990's, Tanis Helliwell decided to go on a spiritual retreat to Ireland. She rented a cottage in a remote area of Ireland to spend her summer. Soon the nearby townspeople began telling her the stories about the leprechaun family that lived in the cottage she just rented.
Her apprehension turned into delight as she befriended one of the leprechauns. She later referred to him by a pseudonym name, "Lloyd," to protect his real name. The summer, that started as a spiritual retreat, soon turned into a summer of discovery.
She learned about the evolution of the elementals through the soul of her new leprechaun friend. Elemental beings align with the elements of earth, air, fire, and water. Leprechauns belongs to the earth elemental race along with fairies, elves, trolls, brownies, and gnomes.
An important message
Lloyd pleaded with Helliwell for humans and elementals to work together — helping both races and the earth. The message he delivered became more urgent as the months passed. He clearly warned that "Humans are harming our own environment as well as theirs." He wanted her to help get the message out. A message that sadly, is still relevant today as it was in the summer of 1995 when it was first received by Helliwell.
Helliwell helps us understand the instructions Lloyd gave her on how we can interact with elemental beings. You see, leprechauns are seldom seen and can be quite mischievous.
Each time I read her book, Tanis Helliwell's style of writing engaged me further into her true story as she described her experiences in the elemental world and her new relationship with the leprechaun.
Sharing her experiences
In 2010, Helliwell produced a DVD about earth elementals and her experiences in Ireland. I encourage you to watch this 5-minute video excerpt from Nature Spirits and Elementals with Tanis Helliwell. It provides a quick overview of the elementals.
In 2011, Helliwell edited her original 1997 book about her experience in Ireland, My Summer with the Leprechauns: A True Story. Helliwell re-edited so "…that the reader can hear the leprechaun's voice in all his mischievous wisdom." In this updated version, she includes more information about the fascinating world (and mission) of the elementals than her original manuscript.
Today Tanis Helliwell carries Lloyd's message to people from around the world. She helps people restore themselves and the world to health working with nature spirits. You can find more information about her work on her website Tanis Helliwell.
My Recommendation
Once again, I enjoyed reading Summer with the Leprechauns book. Tanis Helliwell mixes humor along with the importance of working together for the betterment of our earth — making this book a fun and fascinating read.
I recommend reading it to learn more about our spiritual world and that of the elementals who live with us. If you're traveling to Ireland, it's a must read.
Take care,
~~Ellen
P.S. You can find the highlights of my trip on my blog post, Ireland Road Trip. Enjoy.