Human Heart, Cosmic Heart:
A Doctor's Quest to Understand, Treat, and Prevent Cardiovascular Disease
by Thomas Cowan, MD, Chelsea Green Publishing (November 3, 2016)
Fascinating book that challenged my thinking about how our hearts work. I learned much from reading this book. It reinforces my belief that good health and healing requires a whole-body approach that includes your mind and spirit.
Dr. Thomas Cowan describes himself as a doubter — a nonconformist. It was his unending search for knowledge that has him challenging the traditional black and white thinking of the medical communities' approach to heart disease.
As a result, he brings the voice of science and hope into the subject of the heart.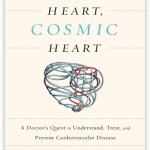 Throughout his book, Human Heart, Cosmic Heart: A Doctor's Quest to Understand, Treat, and Prevent Cardiovascular Disease, Doctor Thomas Cowan shares his personal journey with us.
His story begins when Cowan joined the Peace Corps in the 1970s spending two-years in Swaziland teaching gardening. During that time, he discovered the works of Rudolph Steiner and Westin A. Price — two philosophers who challenged conventional wisdom of medicine during their lifetimes. Their works influenced him then and continues to this day. In fact, because of their writings and discoveries, Cowan decided to become a medical doctor.
After many years of research and observing patients in his medical practice, Dr. Cowan concluded that most common treatments for heart disease do not work. He believes that the heart works more like a hydraulic ram than the traditional thinking as a "pump." With so many blood vessels in our hearts, he explains why the heart functioning as a pump would not work. Through research, geometry, and science, he found that the heart uses suction to disperse and collect blood.
It was Steiner that had him questioning the pump theory for the workings of the heart. He agrees with Steiner that focusing on blood vessels is not the right approach to healing heart disease.
A New Approach
Because of his research and experiences, Dr. Cowan has turned away from conventional treatment of heart disease. He now offers a personalized treatment based on the patient's life story. In his book he describes how he balances his approach on the needs of a person's individual body which includes the heart — versus just the heart by itself.
Dr. Thomas Cowan provides us with a new way of understanding the heart, what it means to be human, and how we can care for ourselves and others. I recommend you read this book, especially if you suffer from any heart diseases.
This approach may be able to help you improve your health.
In addition to this book, you can find out more from his other book The Fourfold Path to Healing. I found his interview with Dr. Joseph Mercola to be informative also. You will find it at Dr. Mercola Interviews Dr. Cowan on His Book, Human Heart, Cosmic Heart.
Happy Valentine's Day! For more information on your heart's health on this special day — or any day, check out an earlier book review on Heart Intelligence: Connecting with the intuitive guidance of the heart.
Take care,
~~Ellen
Have a special February.