This was originally published in my November 2020 eNewsletter that I mail through Mailchimp. Enjoy, Ellen
---
Can you believe we are reaching the end of 2020?  November has finally arrived. If you're like me, this year's passing comes somewhat of a relief. I am grateful for having survived.
Fall Colours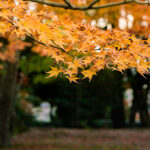 As I write this month's message to you, our leaves here in Toronto continue their spectacular show. The red leaves have mostly dropped, and the yellow leaves shine in their full glory. Our oaks bask in their beautiful deep rust colours while our sumacs and burning bushes provide splashes of red. I really cannot remember a more colourful or longer-lasting fall. I hope your fall has been just as spectacular as ours.
Inspiration
I recently watched an old TED Talk that included a time-lapse movie by visual artist, Louie Schwartzberg.
His breathtaking photos reminded me that when you experience nature – even in a movie – nature can give you a feeling awe. Schwartzberg's work inspired me to write this month's message on gratitude.
A strange new world of constant Uncertainty
We live in very strange, and unpredictable times. Isolating away from our family and friends has induced fear, while at the same time, leaving us to our own resources. The uncertainty of our future can be quite unnerving – for you, for me, for everyone.
A psychoanalyst friend of mine, Doris Brothers, PhD, has written extensively on uncertainty and how difficult it is for us.
In our "modern society" we do not function well with uncertainty. COVID-19 has increased the level of uncertainty much more, so that it has become a burden. Doris goes even further saying that the uncertainty of our times heightens the "traumatic uncertainty of our going on being." Subconsciously we react by heightening the differences between "us and them" which helps explain some of the violence going on in different parts of the world today.
I use meditation to help me calm down and to reduce the fear and uncertainty I feel sometimes.
From the Greater Good Science Center, I came across this Loving-Kindness Meditation that I thought I would share in light of what my friend explained about these troubling times. This 15-minute meditation strengthens feelings of kindness and connection toward others. You can listen to their audio and you can download a PDF or print it off.
Meditation can help you in your self-care efforts.
Indigenous Wisdom
From my friendships, studies, and readings I have come to understand that Indigenous people have always known how to accept uncertainty as part of their life. They learn how to live each day as it comes, from the time they are born.
I feel that we need to incorporate their Indigenous wisdom into our lives.
Science backs up their wisdom. Research shows us that by living in the present and accepting what each day gives us, we can live a more balanced and harmonious life. I'm sure you have experienced days where you enjoyed every moment no matter what happened? You and I need to create more of those days.
One way is through gratitude.
Gratitude Revealed
In the 2012 Louie Schwartzberg's TED Talk that I mentioned earlier, he includes a movie about happiness and gratitude. Schwartzberg's incredible cinematography brings to life the words of the narrator, Brother David Steindl-Rast, along with the musical montage of Gary Malkin.
Here are some of the words that inspired me.
Do you think this is just another day in your life?
It's not just another day.
It's the one day that is given to you: today.
It's given to you. It's a gift.
It's the only gift you have right now.
And the only appropriate response is gratefulness.
Source: From the movie Nature. Beauty. Gratitude. Words by Brother David Steindl-Rast.
These words ring true in life.
I encourage you to take time to immerse yourself in the words, visuals, and music of this 10-minute video below. You'll also find it at TED.com Nature. Beauty. Gratitude.. 
An Attitude of Gratitude
Much has been researched and written on gratitude. Researchers have found that gratitude can:
boost your happiness,
reduce inflammation in your body,
lower your stress levels, and
increase your feelings of optimism.
That's just a few of the ways I can remember that will help you. You can probably come up with more ways you've witnessed that improve your life just by being grateful.
Practicing Gratitude
Kori D. Miller gives us more reasons to be grateful in her article 14 Health Benefits of Practicing Gratitude According to Science. Miller also provides you with a list of 16 practices you can do to be more grateful and to realize these health benefits of gratitude even more.
When you practice gratitude, you begin to live in the now. You lessen your stress and have a fuller life when you are grateful. Nothing in the world is stable. Even our universe is forever changing and evolving. Worrying about the uncertainty that we currently live in just causes you more stress in your life. You don't need that. I know I do not.
Politicians rule through fear. News outlets insists that "if it bleeds; it leads."  We need to push through this bombardment of craziness by using beauty, gratitude, and love to make our voices heard. (Especially those voices in our heads!)
I refer back to the Indigenous peoples. They understand that an attitude of gratitude helps them to live each day as it comes. They experience life through the eyes of nature. They see beauty in a single flower, the flight of a bird, and even in a dying tree.
We can too when we stop, look around, and be grateful for all that we see, smell, and hear.
When we can do this, we expand our sense of self and feel much happier.
Start with this one practice
Begin to strengthen your gratitude by writing in your "gratitude journal".
This can be a piece of paper, a spiral notebook, or a bound journaling book. Just write down each day one to five — things, people, places, or events — that you feel grateful for in your life. This could be as simple as being grateful for the blue sky.
I suggest you write in your journal at the end of your day. You may be surprised by how much better you feel. You may even sleep better ending on a note of gratitude.
There is no rule that says you must write down in your gratitude every day. Write whenever you feel inspired. The true rule is that you must practice living every day in an attitude of gratitude. Be grateful for all things good.
Downloadable journal pages
To help you along, I have two Gratitude Journal pages you can download and print to write free hand the memories you feel grateful towards.
One is blank and the other has been divided into five parts. For the one-page, five-part Gratitude Journal I have also made it into a fillable PDF form that you can complete and save on to your computer or smart phone.
You will find them on my Free Download: Your Gratitude Journal.
Take care of yourself.
You're important in our quest to make this world a better and more harmonious place to live. We can do this.
To receive my monthly newsletters in your email box, sign up today.
~Ellen
P.S. You can find more of Louie Schwartzberg's amazing cinematography on his home page at MovingArt.com.
P.P.S. The Greater Good Science Center offers a great quiz on Gratitude. It originated over a decade ago with a report of their findings compiled in 2012. You can still take the quiz here to find out how grateful you are.